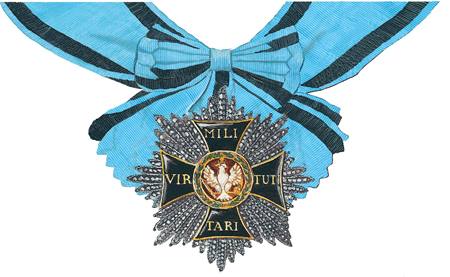 We start with a new publishing series dedicated to phaleristics.
The first album of this new series is The Napoleonic Orders. Orders of Polish Generals in the Napoleonic Era by Tadeusz Jeziorowski.
Tadeusz Jeziorowski is an eminent expert in Polish and world-oriented faleristics. For many years he is a member of the team for addressing and providingopinions on matters related to orders and distinctions, heraldry and vexillology in the Presidential Office of the Republic of Poland and in the Heraldic Commission at the Ministry of the Interior and Administration. He is also a part of the Association of Old Arms and Uniforms Amateurs, the Polish Heraldic Society and German BDOS (Deutsche Gesellschaft für Ordenskunde e. V.).
The Polish cross and the starry cross of the Legion are distinct tokens of honour for bravery and hardships in battle; hence the possession of these decorations was a reason for praise. However, other signs of high regard were displayed next to the Polish orders and Napoleonic eagles of the Legion on the breasts of generals' uniforms at that time. The most important were the two Napoleonic orders, created by the Emperor himself: the Order of the Iron Crown (Italian) and the Commemorative medal of the 1859 Italian Campaign. In addition, there were badges from those nations whose thrones were occupied by relatives of Emperor Napoleon: the Westphalian Crown, the Two Sicilies, and the Order of Spain. They were complemented by German orders; of Bavaria, a constituent in the Confederation of the Rhine, and of the Rhineland-Palatinate, formerly united with Bavaria, there were the Order of Saint Hubert, the Military Order of Max Joseph, and the Order of the Palatine Lion. Two of the most exalted Polish orders, the Order of the White Eagle and the Order of Saint Stanislaus, were sparingly given – few generals received them in earlier years."