The Polish Uniforms 1797-1815 part 2
---
To be purchased as a foiled set:
the book Military uniform on the postcard + the postcard collection The Polish Uniform 1797-1815 part 2 (90 postcards in 10 separate cases)
Price: 41,00 €
Shipping cost:
Shipping cost Global Expres
13,00 € Europe
14,50 € North America and Africa
14,50 € South America and Asia
14,50 € Australia and Oceania
Our postcard collection titled: The Polish Uniform 1797-1815 is for all collectors and Napoleonic era enthusiasts, as well as those who appreciate military artwork. Illustrations of cavalry and infantry soldiers were taken from our albums. The whole set contains 90 colour postcards (format 5,8 x 4,1 in,14,8 x 10,4 cm), divided into 10 series of 9 postcards, each in a separate case. All the postcards and series are numbered, and each case offers a description of the pictures in Polish and English. The front of the postcard presents a colour plate painted by Ryszard Morawski. The reverse side is designed so the cards can be used as postcards as well as a collector's item. Each picture is captioned in four languages: Polish, French, English and German.
painted by Ryszard Morawski
Publisher: KARABELA Warsaw 2022
Format: 5,8 x 4,1 in (10,4 x 14,8 cm)
Language: descriptions in Polish, English, German and French
Series 11-20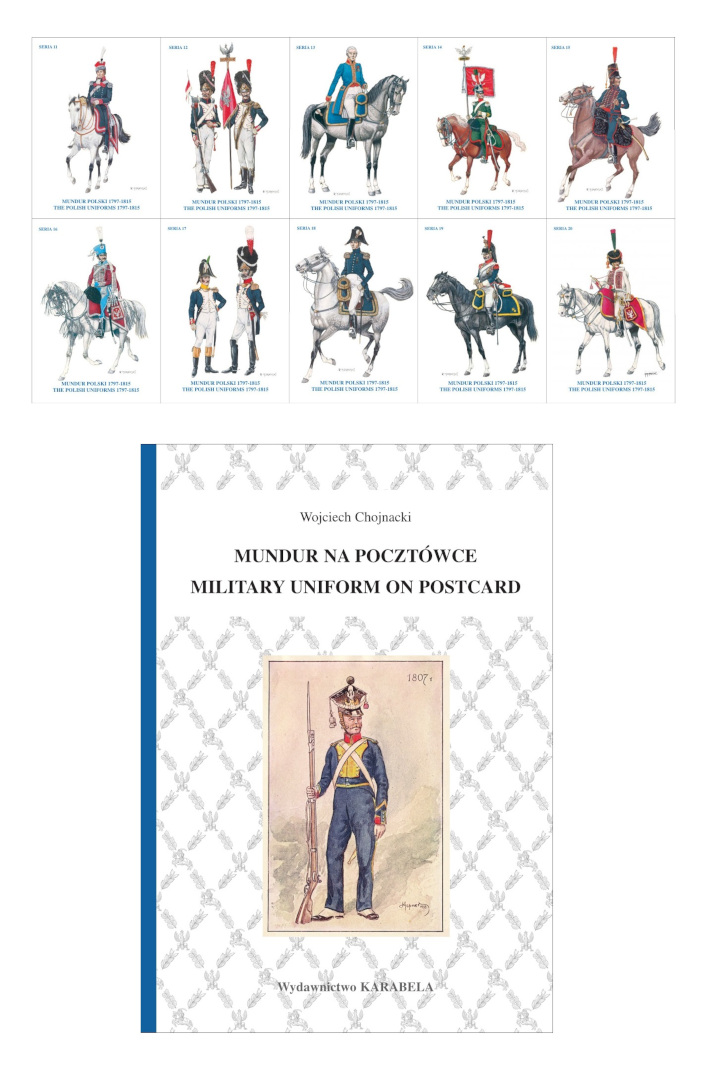 :: SERIES 11
0091 Polish Legion in Italy • Division General Jan Henryk Dąbrowski, 1798
0092 Duchy of Warsaw • Generals, aides-de-camp, staffs • Chief physician Michał Bergonzoni, 1807-1812
0093 Duchy of Warsaw • Infantry • Brigadier General Stanisław Fiszer, General Inspector of the Infantry, 1809
0094 Duchy of Warsaw • 1st Chasseur à Cheval Regiment • Chasseur, elite company, 1807-1814
0095 Danube Legion • Infantry • Drummer and fusilier, 1799/1800
0096 Duchy of Warsaw • Generals, aides-de-camp, staffs • Colonel Franciszek Morawski, chief of staff (division), 1812
0097 Duchy of Warsaw • 5th Infantry Regiment • Officer and voltigeur, 1810-1811
0098 Duchy of Warsaw • 10th Hussar Regiment • Jan N. Umiński, Regimental Commander 1809-1813
0099 Duchy of Warsaw • Cracus Regiment • Regimental commander Józef Dwernicki, 1814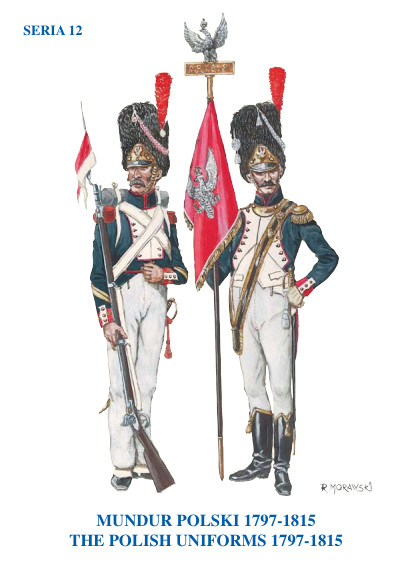 :: SERIES 12
0100 Duchy of Warsaw • Generals, aides-de-camp, staffs • General of Division Prince Józef Poniatowski, 1809-1813
0101 Polish Legion in Italy • Brigadier General Józef Wielhorski, 1798
0102 Polish army 1806/1807 • Colonel Antoni P. Sułkowski, Proprietor of the 1st Infantry Regiment
0103 Duchy of Warsaw • 1st Chasseurs à Cheval Regiment • Lower rank officer, 1809
0104 Danube Legion • Cavalry • Rittmeister Berek Joselewicz, 1800
0105 Duchy of Warsaw • Generals, aides-de-camp, staffs • Major Łukasz Biegański, chief of staff (Ist Legion), 1807
0106 Duchy of Warsaw • 5th Infantry Regiment • Colour guard of the 5th Infantry Regiment
0107 Duchy of Warsaw • 10th Hussar Regiment • Elite company commander, 1812
0108 Duchy of Warsaw • Cracus Regiment • Captain Ignacy Szumlański, 1814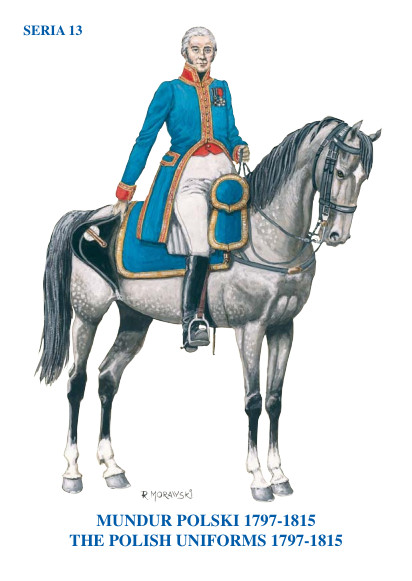 :: SERIES 13
0109 Polish Legion in Italy • Aide-de-camp of division general, 1798
0110 Duchy of Warsaw • Generals, aides-de-camp, staffs • Surgeon-in-chief of the Duchy of Warsaw Franciszek L. Lafontaine, 1810
0111 Polish army 1806/1807 • Fusilier and voltigeur, 8th Infantry Regiment, 1807
0112 Duchy of Warsaw • 1st Chasseur à Cheval Regiment • Chef d'escadron Ignacy F. Stokowski, 1806
0113 Danube Legion • Cavalry • Uhlan, 1801
0114 Duchy of Warsaw • Generals, aides-de-camp, staffs • Aide-de-camp to Frederick Augustus I, King of Saxony and Duke of Warsaw, 1809
0115 Duchy of Warsaw • 5th and6th Infantry Regiment • Fusiliers, 1807-1813
0116 Duchy of Warsaw • 10th Hussar Regiment • Trumpeter, 1809-1814
0117 Duchy of Warsaw • Cracus Regiment • Trooper with bunchuk, 1814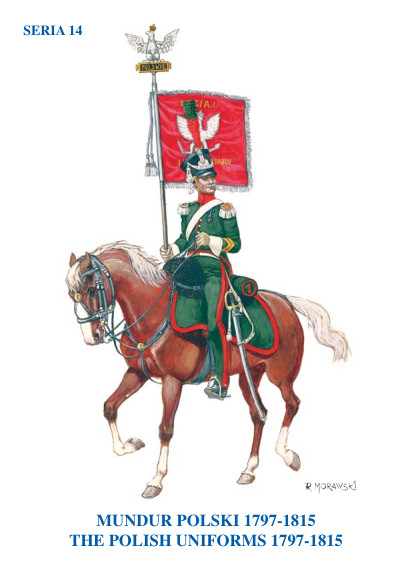 :: SERIES 14
0118 Duchy of Warsaw • Generals, aides-de-camp, staffs • General of Division Józef Zajączek
0119 Polish Legion in Italy • Infantry • Captains Benedykt J. Łączyński and Józef Drzewiecki, 1799
0120 Duchy of Warsaw • 1st Chasseur à Cheval Regiment • NCO with colour
0121 Polish-Italian Legion • Infantry • Musician, 3rd Regiment and voltigeur, 1st Regiment, 1807
0122 Duchy of Warsaw • 13th Hussar Regiment • Józef Toliński, Regimental Commander 1809-1813
0123 Duchy of Warsaw • 9th Infantry Regiment • Grenadier officer and grenadier, 1810
0124 Duchy of Warsaw • Generals, aides-de-camp, staffs • Captain Ludwik Sczaniecki, aide-de-camp to General Jan H. Dąbrowski,1810
0125 Polish army 1806/1807 • Captain of the Ist Legion ("Warsaw") of Prince J. Poniatowski, 1807
0126 Danube Legion • Horse artillery • Trumpeter, 1800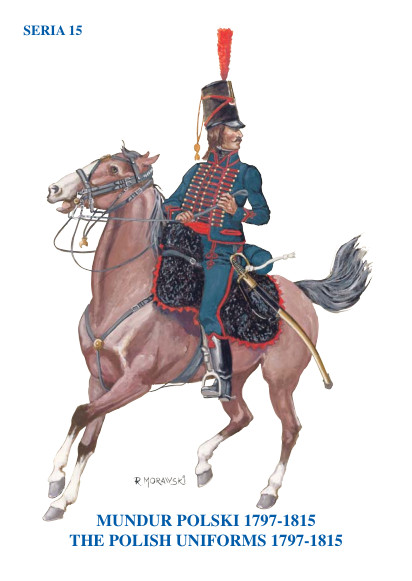 :: SERIES 15
0127 Polish Legion in Italy • Cavalry • Officer, 2nd company Ist squadron, 1799
0128 Duchy of Warsaw • Generals, aides-de-camp, staffs • General of Division Jan Henryk Dąbrowski, 1806
0129 Polish army 1806/1807 • Sapeur, IIIrd Legion ("Poznań") of General J. H. Dąbrowski
0130 Duchy of Warsaw • 4th Chasseur à Cheval Regiment • Wojciech Męciński, Regimental Commander 1807-1808
0131 Danube Legion • Horse artillery • Gunner, 1800/1801
0132 Duchy of Warsaw • Generals, aides-de-camp, staffs • Lieutenant Feliks Szymanowski, aide-de-camp to General Paweł A. Sułkowski, 1810
0133 Duchy of Warsaw • 9th Infantry Regiment • Voltigeur bugler and fusilier sergeant, 1812
0134 Duchy of Warsaw • 13th Hussar Regiment • Hussar, elite company, 1810
0135 Polish troops in Santo Domingo • Soldier, 2nd Polish demi-brigade, 1803; Officer, Ist battalion 2nd Polish demi-brigade, 1803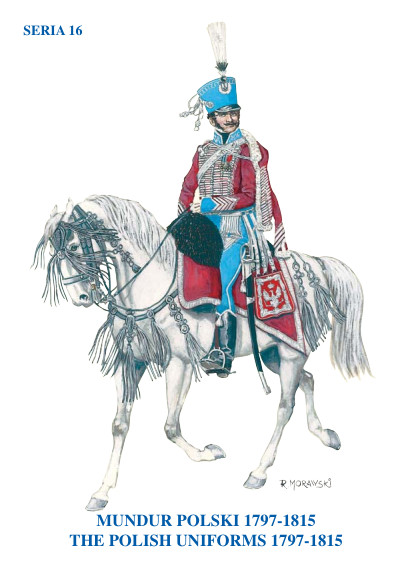 :: SERIES 16
0136 Duchy of Warsaw • Generals, aides-de-camp, staffs • Colonel Florian Kąsinowski, 1810
0137 Polish Legion in Italy • Cavalry • Uhlan, 2nd company Ist squadron, 1799/1800
0138 Duchy of Warsaw • 1st Infantry Regiment • Colonel, 1813 and grenadier officer, 1809
0139 Duchy of Warsaw • 4th Chasseur à Cheval Regiment • Chasseur, elite company, 1810-1813
0140 Polish troops in Santo Domingo • Grenadier officer, 3rd Polish Demi-brigade, 1802;
Fusilier, 2nd Polish Demi-brigade, 1803
0141 Duchy of Warsaw • Generals, aides-de-camp, staffs • Colonel Ludwik Kicki, aide-de-camp to Prince J. Poniatowski, 1812
0142 Duchy of Warsaw • 10th Infantry Regiment • Henryk Ig. Kamieński, Regimental Commander 1811-1813
0143 Duchy of Warsaw • 14th Cuirassier Regiment • Stanisław Małachowski, Regimental Commander 1809-1812
0144 Legion of the North • Chasseur and officer of the 1st Regiment, 1806/1807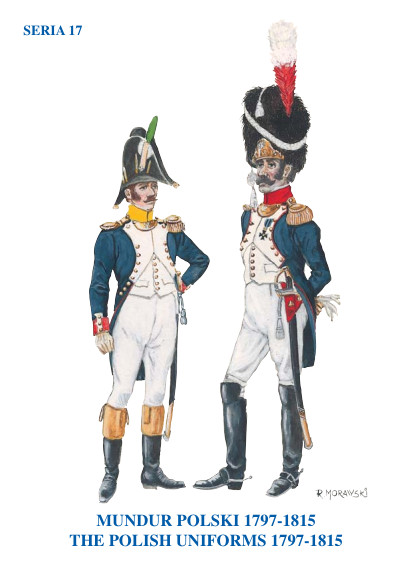 :: SERIES 17
0145 Duchy of Warsaw • Generals, aides-de-camp, staffs • Ordinance officer of guides, 1809
0146 Polish-Italian Legion • Cavalry • Staff-officer (Major), 1807/1808
0147 Duchy of Warsaw • 12th Infantry Regiment • Voltigeur officer and grenadier officer
0148 Duchy of Warsaw • 14th Cuirassier Regiment • Captain Feliks Szymanowski, 1813
0149 Duchy of Warsaw • 17th Infantry Regiment • Drum-Major, 1809 and Tambour-Maître, 1811
0150 Duchy of Warsaw • Generals, aides-de-camp, staffs • Captain Antoni Potocki, aide-de-camp to Prince J. Poniatowski, 1809
0151 Duchy of Warsaw • 1st Infantry Regiment • Voltigeur officer, 1807-1809 and voltigeur, 1810-1812
0152 Duchy of Warsaw • 4th Chasseur à Cheval Regiment • Chasseur, centre company, 1810
0153 Polish Legion in Italy • Infantry • Captain of IInd Battailon 2nd Legion, 1799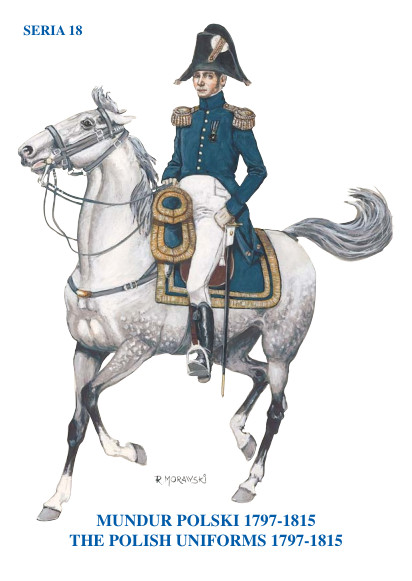 :: SERIES 18
0154 Duchy of Warsaw • Generals, aides-de-camp, staffs • Legion's chief of the staff (colonel), 1807
0155 Polish Regiment of Line Infantry • Drum-Major and drummer of fusiliers, 1806/1807
0156 Duchy of Warsaw • 5th Chasseur à Cheval Regiment • Kazimierz Turno, Regimental Commander 1806-1810
0157 Duchy of Warsaw • Generals, aides-de-camp, staffs • Officer of guides, 1809
0158 Duchy of Warsaw • National Guard • Drum-Major and fusilier sergeant of Warsaw National Guard
0159 Duchy of Warsaw • 13th Infantry Regiment • Franciszek Żymirski, Regimental Commander 1811-1813
0160 Polish Legion in Italy • Artillery • Captain Maurycy Hauke, 1802
0161 Duchy of Warsaw • 1st Infantry Regiment • Grenadier, 1810
0162 Duchy of Warsaw • 14th Cuirassier Regiment • Adjudant-major, 1809-1810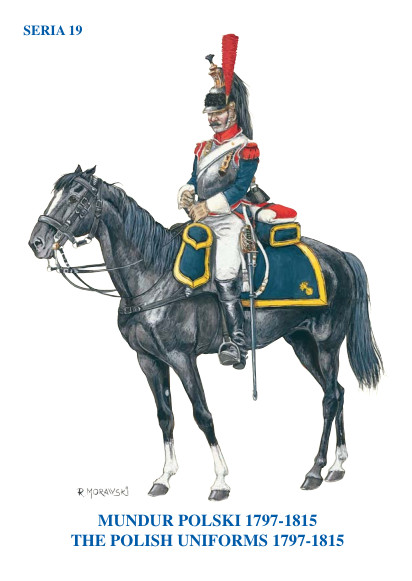 :: SERIES 19
0163 Duchy of Warsaw • Generals, aides-de-camp, staffs • Brigadier General Michał Radziwiłł, 1812
0164 Danube Legion • Pontonnier from the Army of Rhine, 1800/1801
0165 Duchy of Warsaw • 2nd Infantry Regiment • Stanisław Potocki, Regimental Commander 1807-1809
0166 Duchy of Warsaw • 5th Chasseur à Cheval Regiment • Zygmunt Kurnatowski, Regimental Commander 1810-1813
0167 Polish Regiment of Line Infantry • Lieutenant and grenadier, 1806/1807
0168 Duchy of Warsaw • Generals, aides-de-camp, staffs • Trooper of guides, 1809
0169 Duchy of Warsaw • 14th Cuirassier Regiment • Cuirassier,1809-1812
0170 Duchy of Warsaw • National Guard • Grenadier officer and grenadier of Cracow National Guard, 1811
0171 Duchy of Warsaw • 15th Infantry Regiment • Lieutenant Colonel Maciej Rybiński, Battalion Commander 1812-1813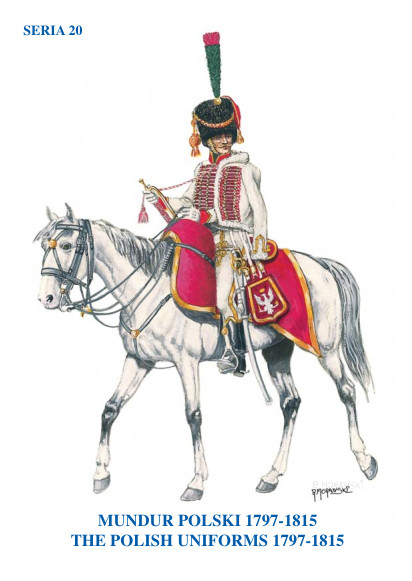 :: SERIES 20
0172 Danube Legion • General Karol Kniaziewicz, commander of the Legion, 1800/1801
0173 Duchy of Warsaw • Generals, aides-de-camp, staffs • Brigadier General Jan Krukowiecki, 1813
0174 Duchy of Warsaw • Veterans • Colonel of veterans and veteran, 1810/1811
0175 Duchy of Warsaw • 5th Chasseur à Cheval Regiment • Trumpeter, 1807-1813
0176 Duchy of Warsaw • 17th Infantry Regiment • Józef Hornowski, Regimental Commander 1809-1812
0177 Duchy of Warsaw • Generals, aides-de-camp, staffs • Trumpeter of guides, 1809
0178 Polish Cavalry Regiment • Secondlieutenant and lieutenant, 1806/1807
0179 Duchy of Warsaw • 5th Chasseur à Cheval Regiment • Major Jan Maksymilian Fredro, 1812
0180 Duchy of Warsaw • 2nd Infantry Regiment • Grenadier drummer and Drum-Major, 1808